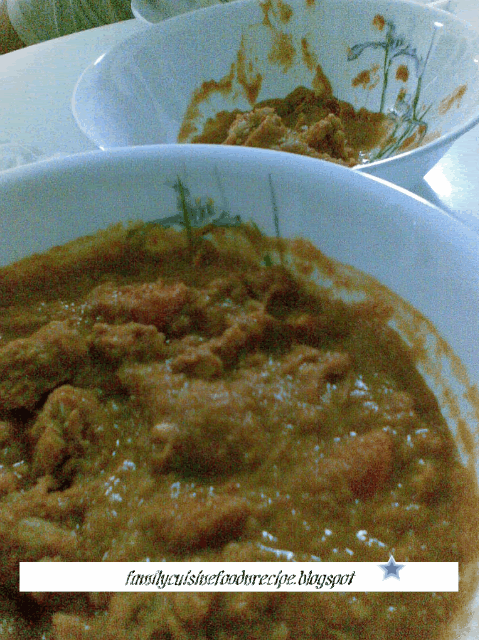 Portion: for 3 adults
Preparation time: 10 mins
Cooking time: 15-20 mins
Cost: SGD 20

Ingredients:


2 whole garlic pounded
2 whole onions pounded
1 set quality curry paste
1 set quality chilli paste
5 big washed potatoes quartered
1 small pre-packed quality coconut cream
1 whole skinless chicken washed and separated into 10 parts

What's Special :



This is a deliciously spicy and sweet dish that keeps 2 lovers and their love child on fire the whole night. What makes this dish special is the

mashy

curry the potatoes are responsible for and the equal portion of chilli paste as that of the curry paste that flames up the heat. Rest assured that peace still prevails in the family for I sure did with my spouse and child apart from much tear shedding. Bon appetit !

Method:


1) In a metal pot, fry till brown the garlic, onions and potatoes and add the 2 pastes fried till
fragrant.
2) Under mid flame, add the chicken and constantly stir the mixture for 5 mins, at which empty
the packet of coconut cream. Stir for another 5 mins.
3) From here onwards, keep stirrring till mixture becomes mashy, your potatoes should have
reduced to half the original size to indicate this.
4) Call your spouse and child to dished out the steamed rice or cut hard loaves .