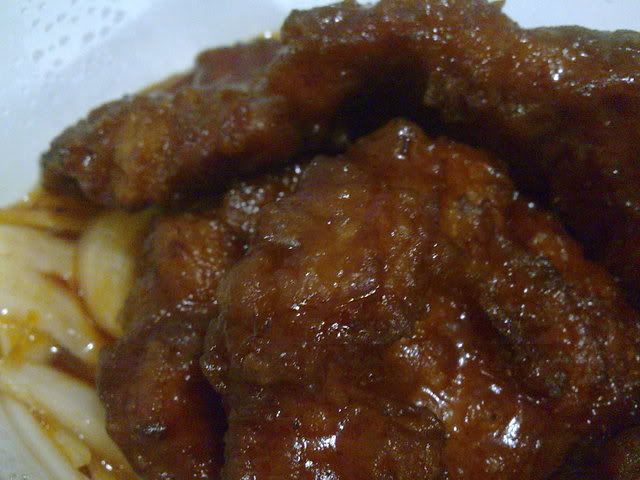 Portion: for 3 adults
Preparation time: 15 mins
Cooking time: 20 mins
Cost: SGD 30


Ingredients:
Side:
Rice for 3
Meat:
800g premium fresh meat loin in chunks
Greens:
1 large green pepper
1/2 large red pepper
3 large premium American potatoes sliced
1/2 cup cucumber cut into chunks
1/4 cup fresh pineapple cubed
1/4 cup garlic chopped
1/4 cup shallots chopped
1/4 cup large red onions diced
Condiments:
Flavored Flour
Ketchup
2 teaspoon salt
Premium sugar
1/4 cup starch solution


What's Special:
The fragrance of roasted meat coated in flavored flour and deep fried finally gets encapsulated in the sweet sauce, holding all the rich juices one will find unforgettable.

Method:
1) Roast the lightly salted meat till brown then coat in flavored flour when cooled. Deep fry the meat till golden brown.
2)Pan fry the shallots, garlic,onion in olive oil till fragrant.
3)Add in rest of the greens for 10 mins.
4)Add in rest of condiments except starch solution and stir fry for 2 mins.
5)Add in meat and more ketchup and sugar and stir fry till meat turn reddish brown and fragrant but not burnt.
6)Sweet Sweet Dining with piping hot rice....