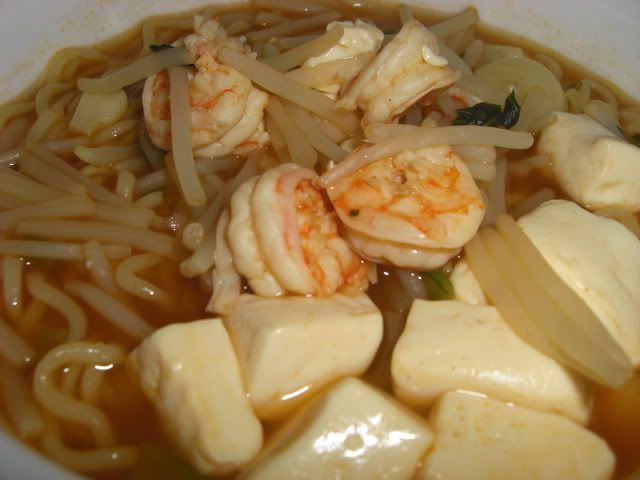 Portion: for 3 hungry adults
Preparation time: 20 mins
Cooking time: 20 mins
Cost: SGD 30



Ingredients
1000g premium fresh prawn shelled and deveined

2 slab premium silken beancurd cubed
1 cup garlic chopped
1 cup shallots chopped
3 cups bean sprout ends removed
3 cups premium prawn broth
Premium soya sauce
Premium oyster sauce
Premium olive oil
Premium black soy sauce
Premium seafood sauce
Premium sesame powder
Premium chilli powder
2 teaspoon salt
3 plates premium steamed thick white noodles


What's Special:
The soup that is well blended with bean essence, fragrant powders and prawn flavor, that just satisfies the hungry family in quality.


Method:
1)Deep fry the shallots and garlic, in olive oil for 5 mins.
2)Add in, beancurd, bean sprout and prawns for 5 mins. Add in the salt, powder and sauces for 5 mins. Add broth and simmer for 20 mins.
3)Serve with a gleeful heart with steamed thick white noodles for the family.