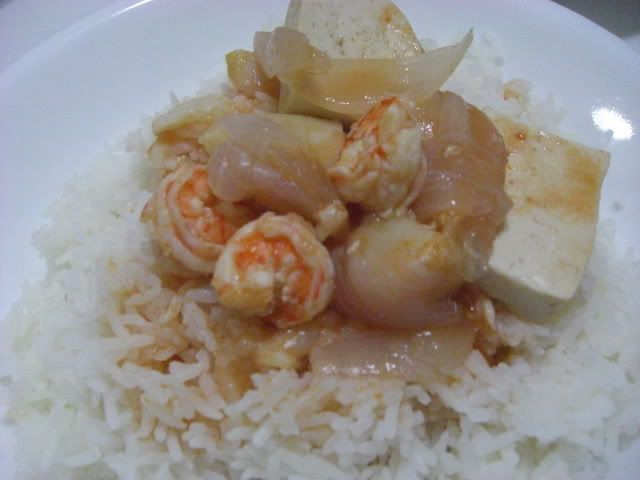 Portion: for 3 adults
Preparation time: 10 mins
Cooking time: 20 mins
Cost: SGD 40


Ingredients
1200g premium prawn de-veined and shelled
100g premium dried scallop softened
200g premium chicken fillet minced
3 premium beancurd cubed
4 premium whole large onion quartered
1 cup whole garlic
1 cup shallots chopped
1 cup prawn stock
Premium honey
Premium soya sauce
Premium tomato sauce
Premium olive oil
2 teaspoon salt
3 bowls premium cooked white rice


What's Special:

The addition of beancurd balances the added honey to the tomato sauce based prawn cum scallop broth. In whole, the color deepens and the "sweetness" of the prawns enhanced with more body to the whole dish.


Method:
1)Deep fry the shallots and garlic, in olive oil for 5 mins.
2)Add all rest of the flavorable ingredients except rice in one go and simmer for 15 mins.
3)Scoop with ernest the sweet crescents and cubes to top the family's rice bowl.