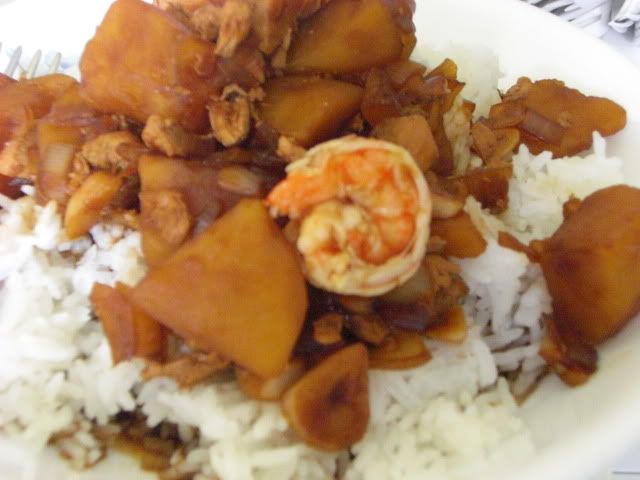 Portion: for 3 adults
Preparation time: 10 mins
Cooking time: 30 mins
Cost: SGD 45
Ingredients




800g premium dried chicken fillet chunked




800g premium grey prawns




1 dozen premium medium American potatoes




6 bulbs purple onion diced




1 cup garlic chopped




1 cup shallots chopped




3 cups premium scallop chicken stock




Premium deep fried prawn powder




Premium soya sauce




Premium dark soya sauce




Premium special scallop sauce




Premium oyster sauce




Premium olive oil




2 teaspoon salt




3 plates premium cooked white rice




What's Special:



The fragrantly scallop stock soaked potatoes, prawn and chicken cubes deeply touches my family's heart when savor with deeply gravied white rice.


Method:
1)Deep fry the shallots and garlic, in olive oil for 5 mins.
2)Add all the fabulous ingredients for 20 mins.
3)Serve on white rice with family warmth.