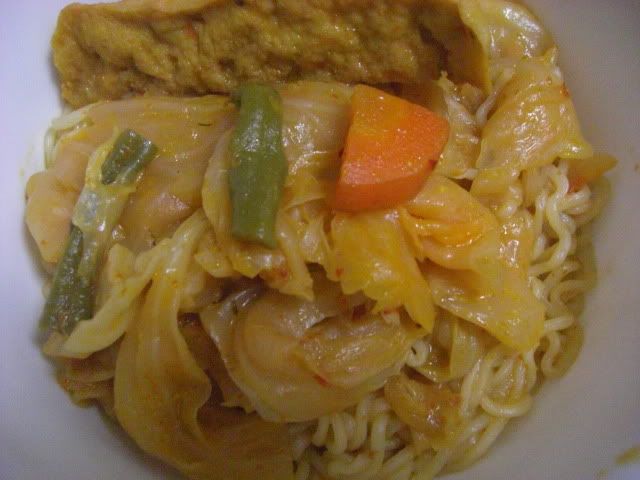 Portion: for 3 adults
Preparation time: 15 mins
Cooking time: 25 mins
Cost: SGD 45
Ingredients




1 whole white cabbage core removed and chunked




3 slab premium white bean curd halved diagonally




3 premium carrots sliced and quartered




1 packet premium green beans chopped




1 cup premium chef garlic chopped




3 cups premium vegetable curry stock




1 packet coconut milk and cream




Premium chilli paste




Premium soya sauce




Premium oyster sauce




Premium olive oil




2 teaspoon salt




3 bowls premium cooked white curly noodles




What's Special:



The rich and heavenly fragrant curry just envelopes the vegetables and noodles in a wonderful pack of taste and visual.


Method:
1)Deep fry the garlic, in olive oil for 5 mins.
2)Add cabbage, bean curd, curry, paste, beans, carrots, salt and sauces to simmer for 20 mins.
3)Add cooked white noodles and toss to serve this creamy hot dish.